Making Sense of Fiduciary Litigation
and Improper Execution
---
---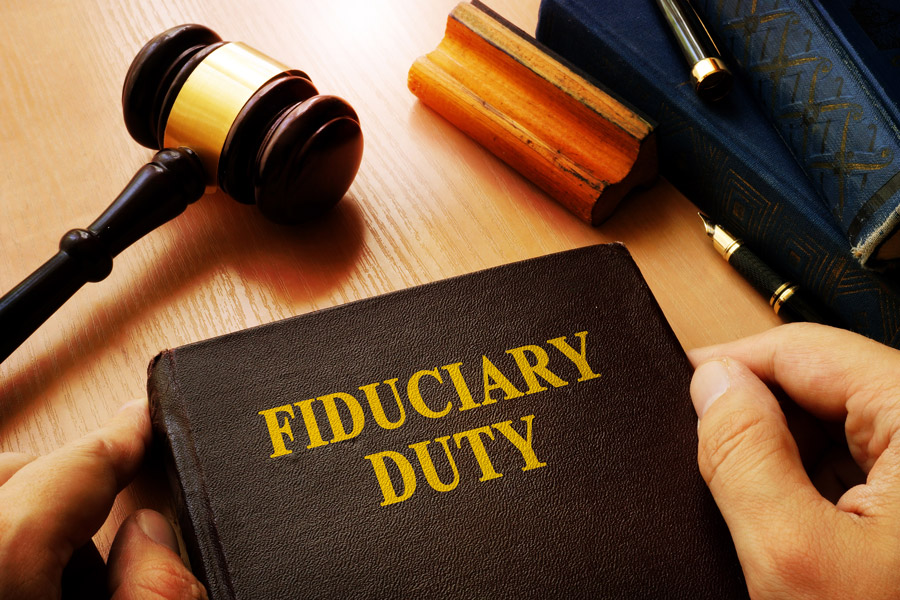 Making Sense of Fiduciary Litigation and Improper Execution
Fiduciaries are individuals or institutions that have the authority to act on behalf of others. In estate law, executors, trustees, guardians of minors, attorneys and financial advisors can serve fiduciary roles.
Fiduciaries further hold legal duties of trust, honesty, and loyalty to act in the best interest of the estate and on behalf of those they represent.
Other ethical duties assigned to fiduciaries include: duty to exercise reasonable care, duty to invest assets carefully, duty to charge reasonable fees, duty to account, and duty to avoid conflicts of interest.
Estate dispute litigation arises when fiduciaries breach their legal or ethical duties or when beneficiaries disagree with how fiduciaries are performing.
Beneficiaries involved in fiduciary litigation often solicit court-ordered accountings, seek fiduciary removal, or pursue legal remedies to restore lost estate assets.
The wills and trusts that bind fiduciaries and heirs together are only valid if certain formalities take place during execution.
Costly improper execution litigation often occurs when decedents do not follow Iowa's strict rules and codes of probate.
Estate disputes involving fiduciaries and improper execution are on the rise in Iowa.
These claims require highly specialized estate dispute law firms, like Smith Law of Iowa, to investigate and litigate the issues competently to make sure assets stay protected before, during and after probate.
Legal Issues Relating to Fiduciary Litigation and Improper Execution
A claim that asserts a fiduciary exploited the testator's lack of testamentary capacity by coercing, pressuring or persuading the decedent to alter the will for financial benefit to the fiduciary.
Injunctions sought by will challengers to remove executors or trustees who breach their fiduciary duties by exercising undue influence on testators.
Experienced
Fiduciary Litigation in Iowa
Complex breach of fiduciary duty disputes and improper execution challenges require the help of well-practiced, knowledgeable estate attorneys to litigate the issues immediately before they become costly and time-consuming legal burdens.
We are the go-to estate litigators in Iowa for working out probate disputes.
And don't forget. "It's our mission to save you money by resolving your fiduciary litigation and improper execution dispute out of court or in mediation."
Check out our blog and learn more about fiduciary litigation and improper execution in Iowa.
Address:
809 8th St. SW, Suite F 
Altoona, Iowa 50009
"It's our mission to save you money by resolving your fiduciary litigation and improper execution dispute out of court or in mediation."